BENTO
Curation Platform to Unify Fragmented Research Process
Bento is a resource curation service that supports cherry-picking and synthesizing selected resources across different resource types.

Team: Danny Choo, Gena Hong, Palmer D'Orazio, Sara Salla, Yining Zhao
Client: uReveal
Research methods: Interviews, affinity diagramming, sequence modeling, visioning, storyboarding, speed dating
Duration: 7 weeks from September to October 2016

Project Overview
This project was to apply the contextual inquiry methodology of the user-centered research and evaluation process. Over the course of 7 weeks, we conducted user research on academics at Carnegie Mellon University, consolidated the research to form insights, and came up with a design idea based on our findings.
 
Problem Space & Scope
uReveal, an innovative software company focused on giving the subject matter expert with access to disparate data, has hired us to improve on their current product and potentially propose new services based on their powerful database technology. They are interested in seeing how their technology can be further applied to new customer basis by broadening their offerings, in turn expanding their business.
 
User Interviews & Interpretation
We first identified our user segment and conducted interview on four academics: A former design facilitator turned faculty advisor, a professor of machine learning, a professor of game design known for her frequent and continuous collaboration with student researchers, and a librarian specializing in science and engineering inquiries. For each of our interviewee, we asked to explain their entire research process from start to finish as well as some of the breakdowns they experience throughout.
After interviewing our participants in pairs, we came together as a group for collaborative interpretation session. In our session, we listed meaningful notes and insights for each interviewee. Furthermore, we developed a flow model, a sequence model, and a value exchange model for each participant to map out the order of interactions, the workflow, and the value/cultural influence of the larger groups and different stakeholders.
Example of One Interviewee Interpretation
Moving from interview interpretation notes to sequence, value exchange, and flow models
 
Affinity Diagramming & Model Consolidation
With the notes that we gathered from our interviews and the interpretation sessions, we developed an affinity diagram through the bottom-up process in order to synthesize our findings. This was to not only summarize our findings, but also allow us to see bigger picture of the problem. Moreover, we were able to identify the overarching themes as they emerged from the notes, instead of having pre-defined categories to begin with. This process spanned over a few days, allowing the entire team to be fully immersed in the data.
Close-up views of the Affinity Diagram
Model Consolidation
Next step was to consolidate the individual models to form a unified high-level view of the current state and to identify the breakdown areas.
Emerging central themes:
1. Finding and organizing resources are two actions that need to happen in the same digital place.
2. Consolidating resources allows the user to annotate, tag, and organize research, which reduces the burden of having to create a separate system for each project.
3. By building an academic social network online, we can accomplish several goals, such as helping users identify contemporary research and see connections amongst researchers.

Visioning & Testing Ideas
By using the method, "walking the wall", we carefully analyzed the affinity diagram and consolidated the models by tagging questions, design ideas, and breakdowns on the models and the diagram. With our analysis, we synthesized to identify the key issues and developed hot ideas through the visioning session.
Walking the Wall
Visioning Session
With key issues and hot ideas in mind, our team conducted a visioning session where we quickly came up with concepts for the future product.
Storyboarding & Speed Dating
From our visioning, we produced 8 storyboards and conducted speed dating session on 3 people individually to test people's first impressions with our ideas. Based on the feedback that we got, combining with our insights from consolidations and "walking the wall", we iterated on our concepts.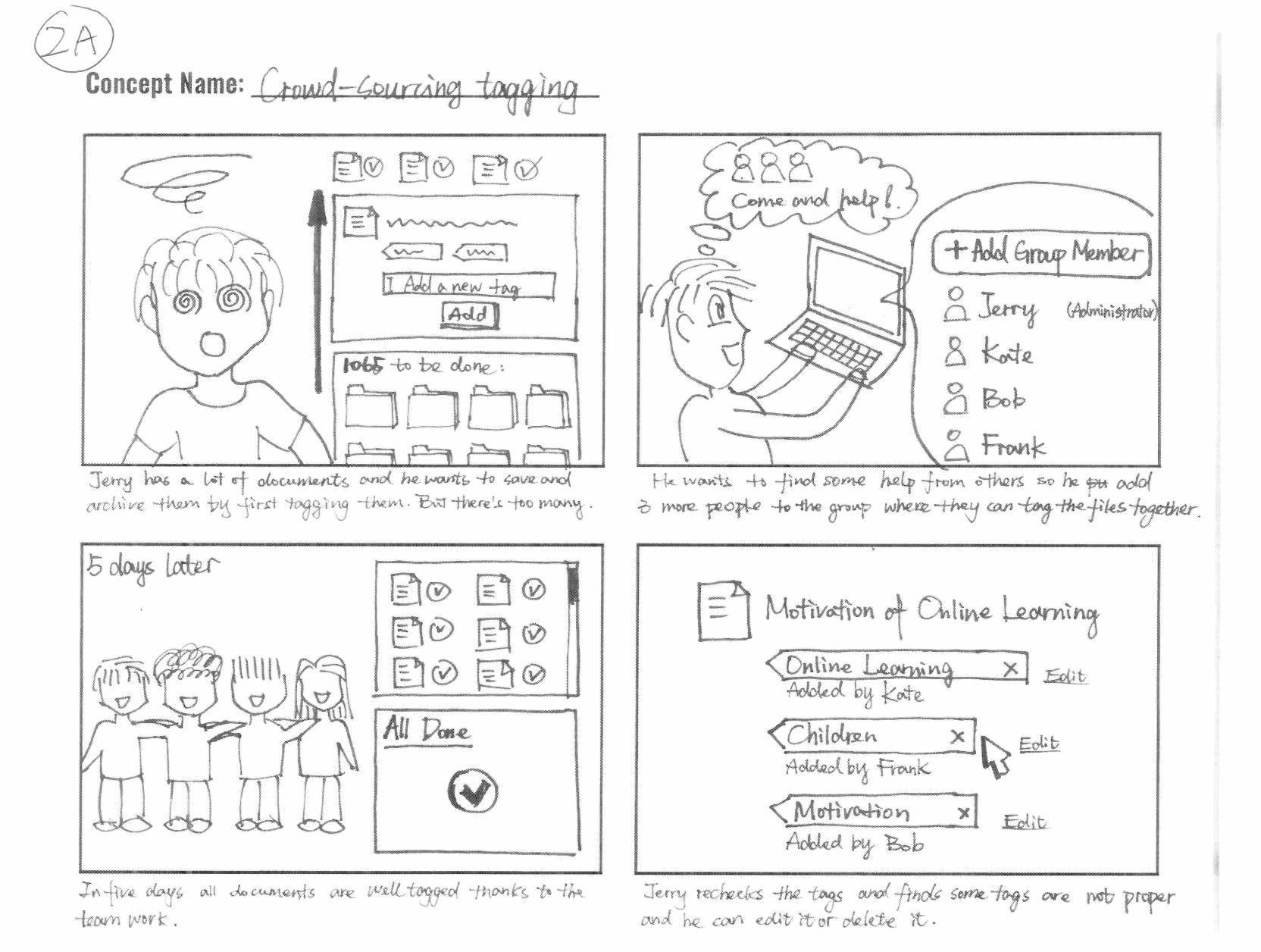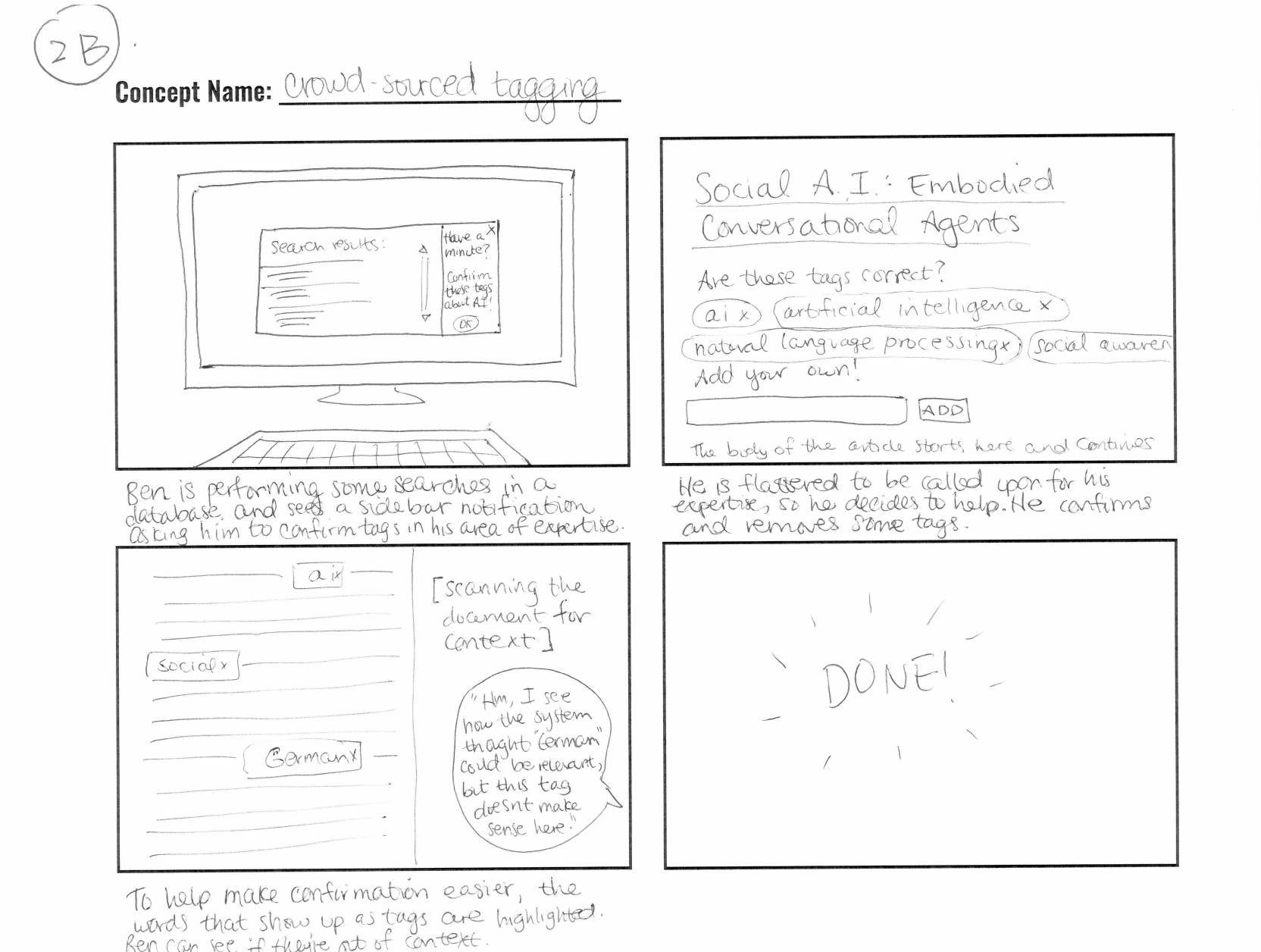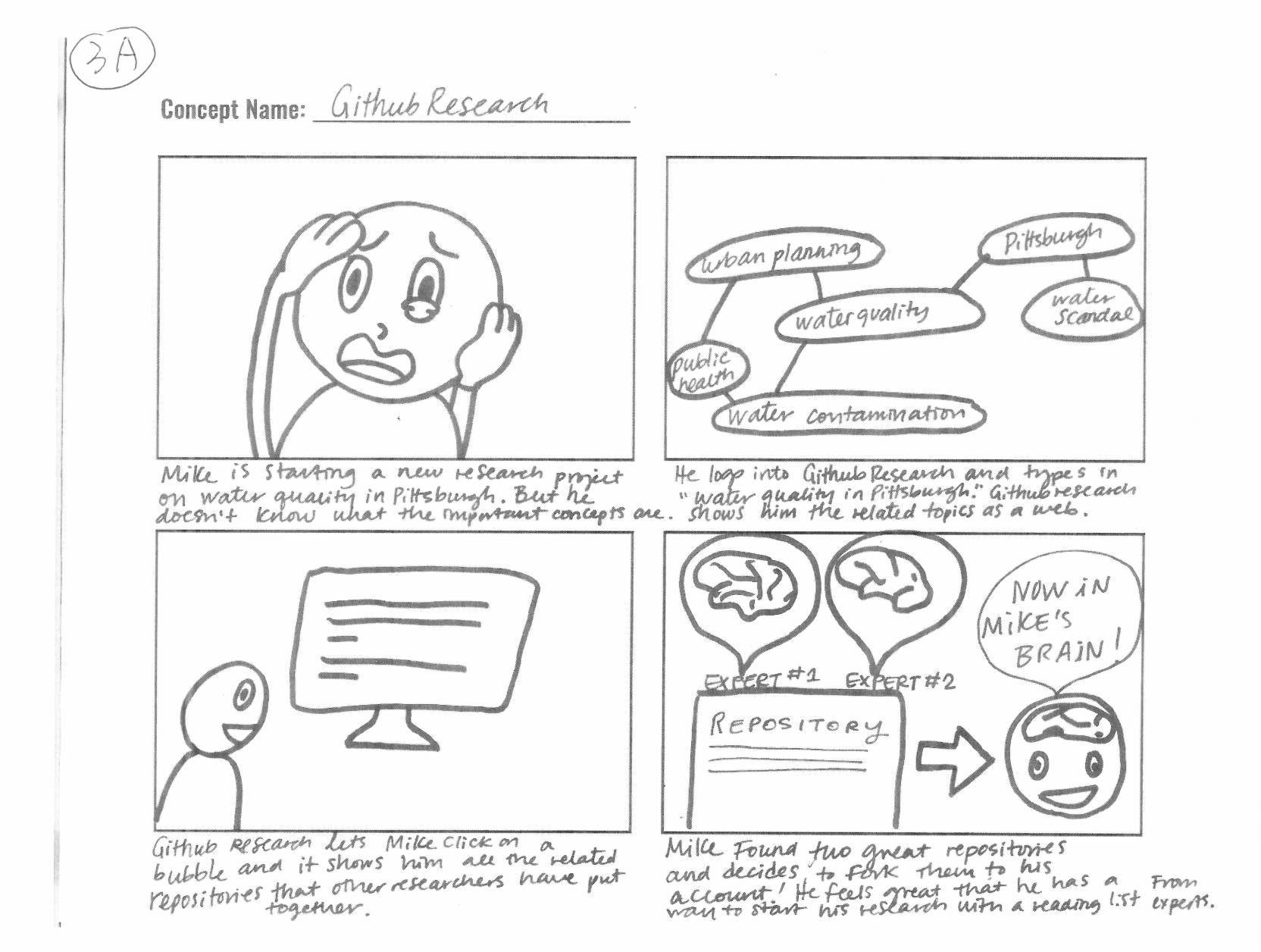 Product Proposal
– BENTO
Through our research and contextual inquiry, we envision a resource curation service that supports cherry-picking and synthesizing selected resources across different resource types. This service would allow users to browse collections of interdisciplinary resource "Bundles" and select pieces that are most relevant to their research, thus curating their own focused Bundle. An accompanying visualization would display semantic connections on a map, and the proximity of a repository to each concept would represent where it fell on a spectrum of ideas. Bundle placement could be determined by tags or a text search of the bundle contents, and positioned on a corresponding area of the visualization.